Byron Joyce used to be half-dead. Now reborn as a youth development specialist and inspirational speaker, Byron empowers young people at risk to build happy, productive lives. HALF-DEAD, with its personal messages of advice and affirmation, is an inspirational story and an exciting and occasionally hilarious read.

Praise for Half-Dead:


Byron Joyce's story illustrates the best traits of humankind—faith, fortitude, and the desire to help others who believe they have no hope left.


Byron Joyce has supplied us with workable, practical, and obtainable solutions to see change occur in America's toughest urban communities.


Byron Joyce places before us two inexorable choices, clear as crystal, with sensitivity. He deals with his yesterday, today, and tomorrow as he feeds us through these pages with ultimate significance.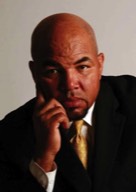 "After being here for a while, I realize it's not the hand that you're dealt, it's how you play the cards."


Byron Joyce used to be half-dead. Now reborn as a youth development specialist and inspirational speaker, Byron empowers young people at risk to build happy, productive lives. HALF-DEAD, with its personal messages of advice and affirmation, is an inspirational story and an exciting and occasionally hilarious read. Mr. Byron C. Joyce is an experienced and acclaimed motivational speaker. To arrange an appearance, please
email Byron
Visit Byron's Website at www.byronjoyce.com
978-0-9761553-3-1



Buy it on Amazon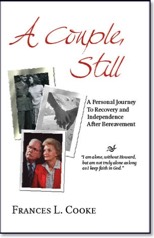 A COUPLE STILL
Readers Have Called
A Couple Still:
A personal and intimate story that I believe can bring healing grace
A roller coaster ride of the emotions with gut-wrenching twists and turns.....All will profit from this riveting and uplifting journey through griefA faithful rendering that comes out of an exemplary Christian life and marriage
978-0-9761553-3-1


B
uy it on Amaz
on
LESSONS FROM THE GARAGE
Four women in an auto repair waiting room inspire uplifting reflections on a life filled with faith, challenges, and love.
This book touches on so many topics that face women—and men and children—in our world. Mrs. Cooke doesn't simply cite events, situations, and varied relationships, but also, in very forthright and simple language, she tells her readers how to be sensitive to who they are and to consider each encounter as a life changer. Her faith tells her that God is in the mix. She, in turn, tells us. What a beautiful revelation! —From the Foreword
978-0-9761553-8-6


Buy it on Amazon
Frances L. Cooke grew up in Wake County, North Carolina, the oldest of ten children in a working, tobacco farming family.
For 52 years she was married to a Massachusetts Yankee husband, and together they reared two daughters. Retirement came to Frances following ten years with the N.C. Baptist Foundation as director of Trust Development.
Frances has always been involved in some form of volunteer work, including nearly twelve years as teacher of Sunday School lessons for radio and for television produced by the Baptist State Convention of North Carolina. After the death of her husband, she devoted two summers to teaching conversational English in universities in China.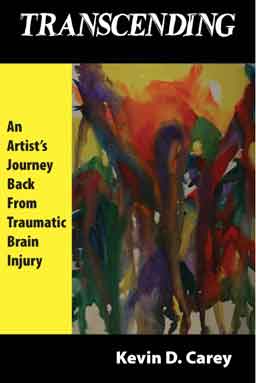 On March 7, 2001, Kevin Carey was nearly killed in an automobile accident. He was in a coma for two months, and he suffered broken ribs, a collapsed lung, staples in his head and knee, paralyzed vocal folds, and traumatic brain injury.
During his recovery he examined his life and decided to pursue art. But severe spasms in his dominant right arm made drawing and painting nearly impossible. He practiced drawing with his left hand twelve to fifteen hours a day. He taught himself to write, draw, paint and sculpt with his left arm.
Transcending: An Artist's Journey Back From Traumatic Brain Injury includes art activities designed for individuals experiencing health issues as well as a list of resources for artmaking and health.
WHAT PEOPLE ARE SAYING ABOUT TRANSCENDING
"Over the past 40 years, I have witnessed the positive impact of expressive art making on the lives of people with traumatic brain injury. Art is the thread that runs throughout the fabric of Kevin Carey's life, appearing in the appealing drawings and paintings of his childhood; in the early, tentative sketches done with his right hand following his accident; and the expressive, confident body of work he is now producing with his left hand. It reflects his struggles and triumphs and helps him open the door to a new life. Kevin's story provides a powerful example of art's unique ability to help weave the pieces of a shattered life back together."
—Mickie McGraw, MA, ATR-BC
Education Coordinator/Art Therapist
Center for Therapy through the Arts/Art Studio, Cleveland, OH
"Powerful, filled with passion and well written. Many people would benefit from reading his story....I came away from reading his book filled with smiles."
—Maureen Del Giacco, Ph.D., LCAT,CDATA, CCT,
developer of Neuro-Art Therapy and author of Lost Inside My Brain
"Kevin does not represent all people who have experienced brain injuries but he provides an excellent example. His efforts and successes show that art can be a healing force in the face of traumatic change and that a new professional identity can offer a renewed sense of purpose and the potential for a satisfying life."
—Barbara Parker-Bell, ATR-BC, LPC
Director, Graduate Art Therapy Program, Marywood University.
"I believe Kevin Carey is an inspiration to any child or adult who may not have experienced trauma, but might just be having a bad day or facing adversity. He is an excellent role model and a humanitarian with enormous fortitude."
—Dr. Loree Guthrie, Assistant Superintendent,
Pocono Mountain School District
With eight pages of color photos and art activities designed for those coping with health issues, plus an arts and art therapy resource list
FOR A SIGNED COPY OF TRANSCENDING, CONTACT AVVENTURA PRESS.
Kevin Carey is a certified elementary school teacher and holds a Master's degree in art therapy from Marywood University. Kevin is also an award-winning artist
Music Inspiration
, winner of nationwide Carnegie Hall Playbill cover competition
Jay Sochoka overcame food addiction and family struggles as he evolved from a 306 lb. Fatman to a Boston Marathon runner, finding faith, love and self-acceptance along the way. His story— inspirational, poignant, and filled with humor—is the perfect companion as you run your own life marathon.
FROM THE FOREWORD
"When I met Jay Sochoka, he was running for his life.
A self-described "fat man in recovery," he once tipped the scales at more 300 pounds and had whittled himself down to a trim 198. He was about to run his fifth Steamtown Marathon, and was hoping to finish with a time that would qualify him for the Boston Marathon.. One of the best parts of my job as a community journalist is meeting ordinary people who do extraordinary things. Their stories are inspiring, entertaining, and, most importantly, real. Stories don't come much better than Jay's, and I'm honored that he invited me to help him tell it.
Jay Sochoka is still running for his life. After finishing this book, don't be surprised if you find yourself running for yours, too."
—Christopher J. Kelly
With dozens of photos and practical tips for starting your own diet and fitness program
Buy it on Amazon
Jay Sochoka is a Registered Pharmacist , a devoted husband, and father of a teenage son. He also plays bass guitar in a Christian rock band.